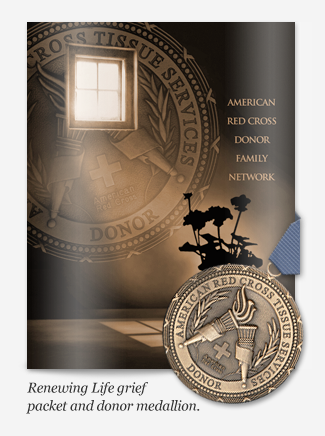 The American Red Cross Donor Family Network offers ongoing care and support to families to help them through the grieving process. Those who volunteer are placed in contact with other donor families who have experienced a similar loss. Some even become involved in the Red Cross Speaker Bureau to help educate their communities about the need for donation.
"With over 2,200 donations and 100 families participating, the American Red Cross provided 105,000 human tissue grafts for transplantation last year," according to Chyrrel Mock, American Red Cross Family Donor Network coordinator.
A 3-inch bronze medallion was created in honor of those who gave the gift of life and is presented to their families at an annual ceremony held at the American Red Cross Headquarters in Washington D.C.
Other grief support materials include a 9×12 Renewing Life grief packet, a lapel pin, video package design and a Christmas ornament.
• • •
Concept development, medallion design, multi-channel marketing, packaging and support materials.